Aujourd'hui, alors qu'il est possible d'acheter beaucoup de denrées alimentaires en vrac, les liquides sont bien souvent tenus à l'écart de cette pratique. Qui n'a jamais été contraint d'acheter une bouteille de 75 cl de vinaigre alors qu'il n'en utilise que 25 cl par an ? Qui n'a jamais laisser un fond d'huile dans une bouteille pour en acheter une autre pour la remplacer ?
English
WWWWHW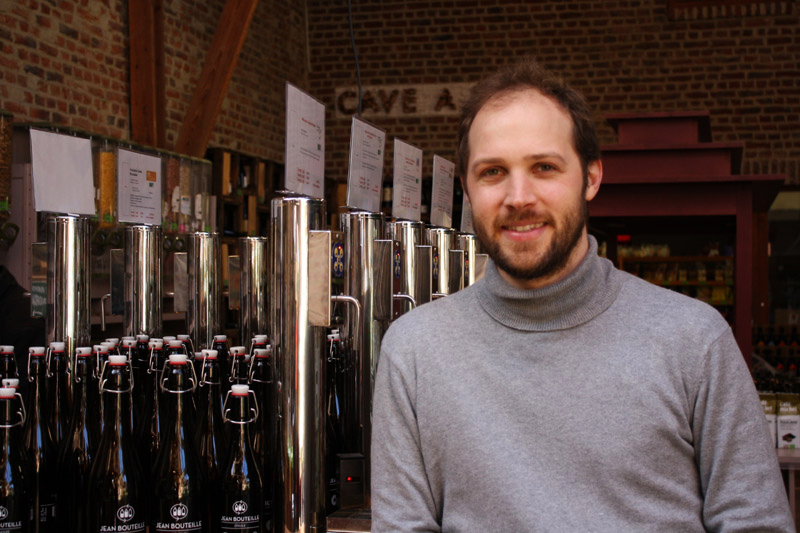 Who? Gérard Bellet, 29, commercial background
What? Jean Bouteille, a pun in French meaning "I'm bottling"
Where? Villeneuve d' Ascq, Nord region, France
When? Created in November 2013
How? Liquid bulk sale based on 3 keywords: bulk, refundable bottles and washing
Why? Reduce or prevent waste production
Our questions to Jean Bouteille
Describe sustainable development in a few words? Common sense!
How do you think you contribute to sustainable development? By offering a simple way of consumption that doesn't generate waste, or just a little.
What project would you like to see emerge in your community/local area? City worm composters
A topic you would like us to talk about? An initiative that you want us to focus on? How is « Zero Waste » concept applied in Italy. It would be interesting to dig it and verify the implementation on the field.
A challenge for us? Minimize your consumption of bottled water as much as possible and record how many bottles you'll purchase during your trip.
We tell you more about Jean Bouteille…
Today, even if it's possible to buy a lot of bulk food, liquids are often kept out of this practice. Who has never been forced to buy a 75 cl bottle of vinegar when he/she uses only 25 cl a year?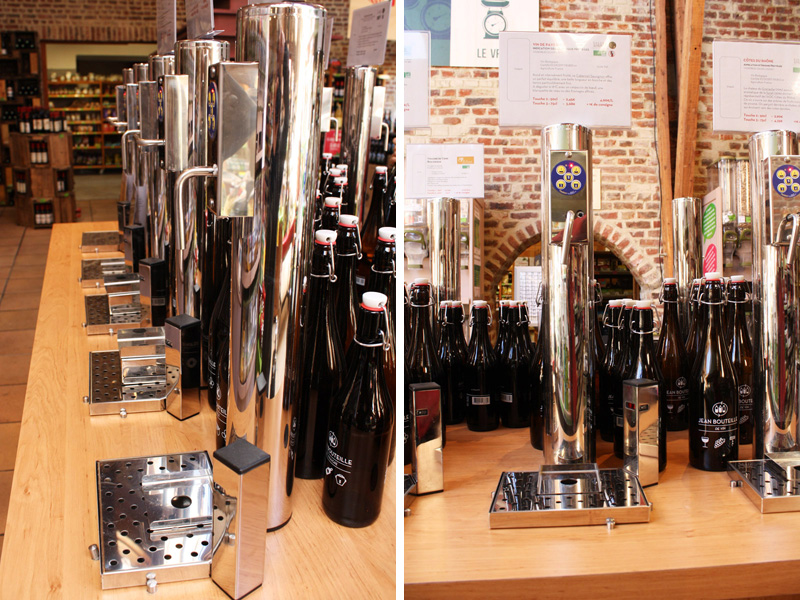 "Just buy what you need"
Based on this observation, Gérard Bellet developed Jean Bouteille. A solution that is completely in line with today's trends, based on circular economy sprinkled and frugal innovation capability concept. At age 29, with a strong business education and international work experience, Gérard has set up a project combining its environmental beliefs, common sense dear to his heart and refusing disposables packaging. He had the idea to update the concept of refundable bottles by associating it with a technological solution easy to use and attractive, without any ties for clients.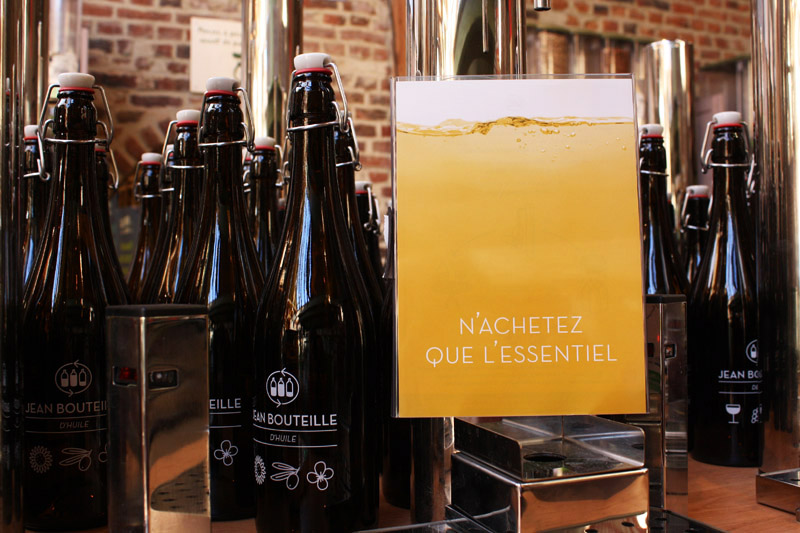 From bottling, to the washer through containers, Jean Bouteille is a complete sale solution. Gerard sets up Jean Bouteille stand and leaves to the owner of the shop the choice of liquids sold in bulk while maintaining some control over the goods offered. Indeed, he is convinced that it is possible to consume quality products at an affordable price while limiting theirs impact on the environment. That's why he got in touch with an organic grocery store to launch Jean Bouteille pilot project. Thierry Decoster has been packed away by the idea and supported Gérard by welcoming his project in his store call La Ferme des saveurs (meaning The Farm of Tastes), located in Villeneuve d'Ascq, in the Lille area (Nord region, France).
An economical and ecological system
Between bulk cereals and tea, Jean Bouteille stand seduced more and more customers every day. Often intrigued, they tame the bottling quickly. Simple and fun to use, the system is based on Jean Bouteille 3 keywords: bulk – refundable bottles – washing.
Bulk sale
Bulk sale is possible thanks to a self-service filling system. This electronic and mechanical system was developed specifically for Jean Bouteille. It allows filling adjustment to the container selected (25, 50 or 75 cl). After positioning the bottle, simply press the right button to start filling the bottle.
Bulk principle is fully respected: whatever the quantity purchased, the price per liter remains the same.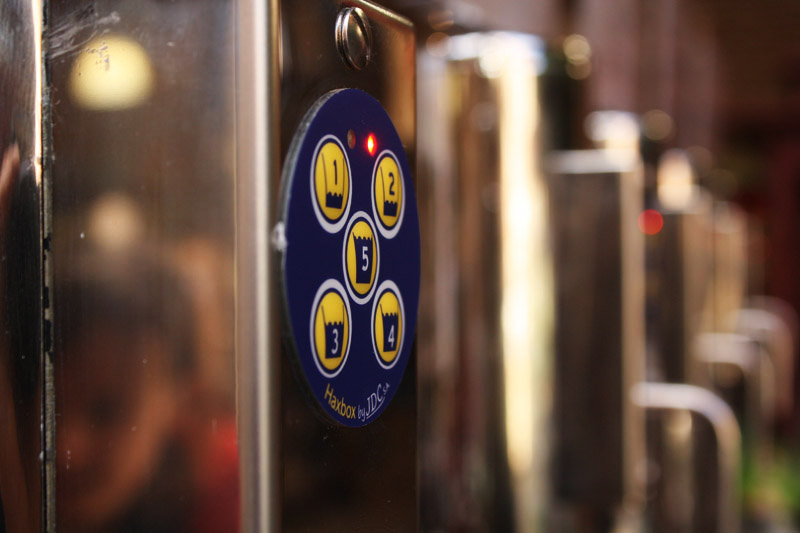 Refundable bottles
Remember when you help your parents or grandparents taking bottles back to the store in exchange for a few coins. While refundable bottles concept has disappeared in the late 80s in France, Gerard updated it! Jean Bouteille version is based on a well design and stylish dark bottle (for better product preservation). The durability of this bottle is currently estimated at more than twenty uses. But, how much doest it cost? At the checkout, the customer pays 1€ per returnable bottle. This sum is given back to the customer as soon as he/she returns the bottle to the shop without even cleaning it. Simple, effective and practical.
Washing process
Last but not the least step: washing process. At the moment, this step is performed in the shop where is located the pilot protect. A professional dishwasher has been completely customized and adapted to receive the different sized bottles sold. Eventually, Jean Bouteille should have washing stations within a radius of 20-30 km from the shops using this solution.
With Jean Bouteille, customers are no longer forced to buy containers that they don't know what to do after use and eventually, at best, that end up in a recycling bin. Instead, they can buy the amount of liquid which they really needs while consuming good quality products without contributing to avoidable waste production. Costumers don't own the bottles, so they don't need to worry about having an empty and clean container while going to the grocery store.
What we think of Jean Bouteille
Jean Bouteille concept is, indeed, a perfect example of:
circular economy, avoiding as much as possible waste by encouraging reuse
saving feature by selling a service (or a use) rather than a product (here, carrying and keeping liquid in a secure and hygienic container)
frugal innovation… or the art of making more (or better) with less! An ideal combination of bulk, refundable bottles and washing, all in a narrow geographic area
The next step for Gérard is to continue developing his pilot project and expand its concept to other regions.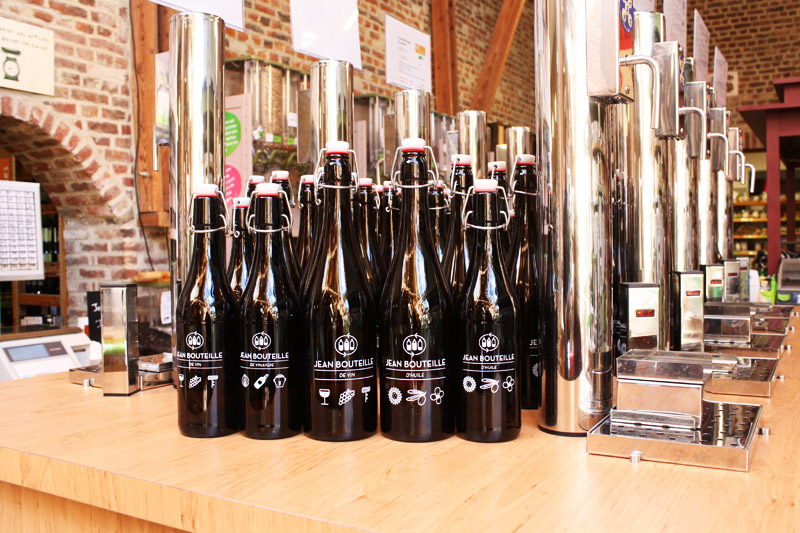 We thank Gerard for this interview. We are delighted to launch this world tour of sustainable experiences with the portrait of a young motivated and motivating man. If you want to know more about Jean Bouteille, have a look to its website.
Did you like this portrait? Do you want us to interview a specific person leading a project related to sustainable development? Let us know in the comments box!